A mobile app developing service is developing the mobile app, UI/UX design having customized and suits your business the mobile application. It grows your business by digitalization that includes access to all your work documents, tasks, calendars, etc.
Why Important Mobile Apps?
A Mobile app increases a business audience, brand reputation, sales, and revenue generation. It makes a business perfectly capable of doing all these and helps businesses find various growth opportunities and produce substantial profits.
Marketing Tool
The mobile app is the best marketing tool and helps your business get more management of the customer and go ahead of competitors. For your business purpose, you can easily express the information about new launches, offers, discounts, booking, newsfeed, or the related thing through the mobile app. It has a more and more updated feature that increased the popularity of the mobile app as a great marketing tool.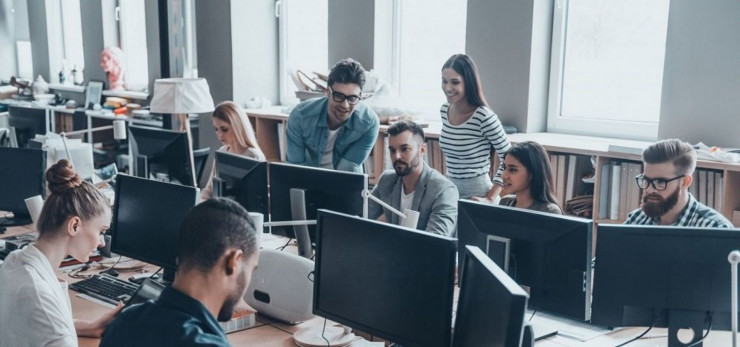 Improve Accessibility
When we use the mobile app we frequently notice business brand logo, images, and their service. if users install your app and conceive your brand service consistently, they can easily catch your brand advertisement and that improves your brand presence.
Build brand recognition
A mobile app is like a blank billboard sign or advertisement of your business. You can make your business app stylish, hip, functional, shocking, or informative but you have to mind what features your customers will love,  beautifully designed that will contribute to your brand awareness.
Increases Sales
In your business platform, a mobile app can reach the customer on time and recommend your business in lots of ways. you provide the products or service with various offers, rewards, and promotions, you are encouraging customers to purchase through the mobile app.
 Benefits of Mobile App for your Business
 Increase Brand Presence
It is a different way to massage a customer and communicate with your mobile app. you think that how many customers would prefer to communicate with you via text than via phone therefore mobile app plays a vital role in this business platform.
Customer Loyalty
The most important thing for a mobile app is to directly interact with its customers in cultivating customer loyalty. The mobile app advertisement and their service in online platforms, social media advertisements make a great impact on customers. You can also cultivate customer or brand loyalty with the app notification, promotions, and ads created.
Improve Customer Service
A mobile app development service determines the success of any business. You need to be important to increase the sales, no matter how good your products and services are you providing. A mobile app improves your customer service by increasing your product sales and business visibility.
Official interaction with customers
You also can customize your app as your requirement so that it encourages and converts the customer more and more. A mobile app can improve your customer service experience by expediting customer service and interacting with the customer.
Work Process for Mobile App Development Service
1.     Identify the app users
2.     Research the competition
3.     Establish the app's goals and objectives
4.     Select a mobile platform for your app
Analysis and Planning

 UI / UX Design
1.     Information Architecture & Workflows
2.     Wireframes
3.     Style Guide
1.     Back-End/Server Technology
2.     Mobile App Front-End
1.     User Experience Testing
2.     Functional Testing
3.     Performance Testing